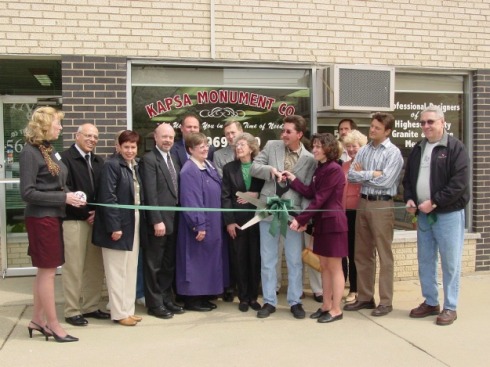 Meet Kapsa Monuments...
Kapsa Monument Co. is a family owned and operated business located in the downtown area of historic Downers Grove, Illinois.

At Kapsa Monuments we guarantee our customers:
* Only the highest quality granite and bronze. We never use inferior materials, or materials that have not stood up to the test of time.

* Superior customer service. We will do whatever it takes to make the memorial process go smoothly for you. We are always available for in home or office consultations.

* Our best price from the start. We won't ask to see other quotes or force you to haggle over price, we always provide you with our best price right away.

*No hidden fees or charges for lettering & designs. We outline the costs involved before you decide, and never increase your price for extra lettering.

* No-pressure consultations. We will listen to your ideas, look over design ideas, and discuss the cost involved, but we will never make you feel that you have to make a decision before you are ready.

* 1,000's of design ideas as well as custom work available. With skilled craftsman and artistry we will create a memorial to reflect your loved one's individuality.

* Complete satisfaction. We always provide a design/lettering proof, at no charge, for family review before memorial designing.
* We offer a special 10% discount on any memorial for a Veteran (spouse included). This discount includes members of the U.S. Merchant Marines (spouse included) having served:
12/7/41 - 12/31/46
6/25/50 - 7/27/53
8/5/64 - 5/7/75

We have over 20 years of successful experience in the Sales & Design of Headstones, Monuments, Memorial Plaques, Address Plates, etc. Being a family owned and operated business, allows us to offer families the highest quality granite & bronze at reasonable prices, provide personalized attention, and guarantee complete satisfaction. The top quality granite our memorials, plaques and signs are made of comes from quarries across the USA and around the world. Kapsa Monuments never has and never will sell to our customers, cheap, low quality, inferior granite that is so common in the market today. These granites simply don't stand the test of time.

Kapsa Monuments doesn't "manufacture" monuments & headstones at a "plant". Rather, our professional designer listens to your ideas and wishes to create a truly unique design. Then the piece is handcrafted by master stone cutters giving you a truly unique piece to last the ages.

From the elegantly simple to the stunningly beautiful we offer you hundreds of styles and custom designs.