Granite Vases

Granite vases come in various sizes and usually are designed from the same granite as your memorial.
Bronze Vases

There are many bronze vase designs that come as part of a bronze marker, or as a separate unit which can be mounted on granite or concrete. These bronze vases can be turned upside down and "stored" underground during the winter months or when not in use. These vases start at $300.

Aluminum vases

Below are a variety of aluminum vases that are designed and crafted by Metalcraft,Inc. These vases come in a variety of colors to compliment your granite memorial. These vases come in several different sizes and can be mounted on your monument base, on a ground marker or as an in-ground mount which turns into the ground during the winter months. These very durable vases are die cast and specially coated to last without corroding. The price will depend on style chosen and if the vase will be an in-ground set-up or mounted on a base. $85-$200 each

Aluminum Wall Mount Vases

Below are 2 vases that can be mounted in mausoleums, on crypt walls, and also onto the back of slant memorials or upright monuments.

Solar Candles / Lights

This beautiful solar candle is designed by Metalcraft. The symbolic votive light with the modern conveniences and safety of solar power. During the day, the vigil light charges by sunlight and at the beginning of dusk automatically illuminates an amber flickering glow to simulate a traditional burning votive light but with no danger of fire, melting, or damage. Comes with the 5 decals shown below.

The light can be vase mounted or set in the ground with a spike. The light comes in blue as shown or in red.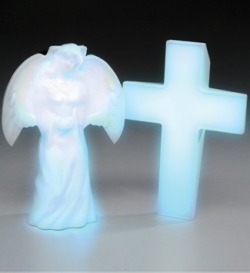 The solar Angel or Cross charge all day in the sun and glows at night.

---
Urns
We offer a variety of cremation urns in all sizes. Below you will see just a few different styles. There is a wide range in pricing depending on the material and design. Please contact us for more information.